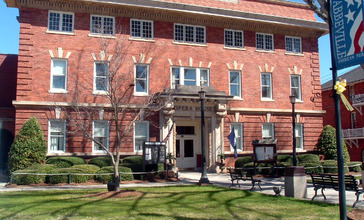 Abbeville is a city in Abbeville County, South Carolina, United States, 86 miles (138 km) west of Columbia and 45 miles (72 km) south of Greenville.
Its population was 5,237 at the 2010 census. It is the county seat of Abbeville County. Settled by French Huguenot settlers, it was named, along with the county, for the French town of the same name.
History
Abbeville was established by French Huguenots in 1764, at a site named by John de la Howe. It was incorporated in 1840. Famed states' rights advocate and Vice President John C. Calhoun first practiced law in Abbeville, and he was born on a farm on the outskirts in what is now Mt. Carmel. Anthony Crawford was lynched here in 1916.
Geography
Abbeville is located at 34°10′42.7584″N 82°22′39.6732″W, and is within the Piedmont Upland geographical region.
According to the United States Census Bureau, the city has a total area of 6.1 square miles (15.9 km2), of which 0.012 square miles (0.03 km2), or 0.19%, is water.
Nearby is the Sumter National Forest.
Economy
Agriculture and forestry are important industries in the area. Crops that are grown in quantities are cotton, soybeans, corn, oats, wheat, and peaches. Livestock, dairy cows, and poultry are also raised in the area. Finally textiles are the chief manufactured product, in particular, clothing. After the North American Free Trade Agreement clothing is no longer made in Abbeville. Also represented are plastic and metal products.
Culture
Abbeville Gypsy
Abbeville is the homeplace of a holiday pudding dessert called Gypsy. Gypsy consists of pound or sponge cake, boiled custard, sherry, whipping cream, and almonds. Variations of recipe substituting bourbon for sherry exist. It resembles English trifle and has been referred to as "tipsy pudding" and southern tiramisu. It is usually cooked for Thanksgiving and/or Christmas in many "old Abbeville" families. The dish is not known to exist outside of Abbeville other than in families who moved from Abbeville eslewhere. It is usually served in a special stemmed, medium-sized, decorative crystal compote.
The origins of Gypsy go back to late 19th century. There is a mention of Gispy cake in 1831 edition William Kitchiner's The Cook's Oracle, which may have been a prototype for the Abbeville Gypsy.[29] A local legend tells a story of an unknown woman serving Gypsy to Confederate President Jefferson Davis at the end of the Civil War in 1865. Theresa C.Brown included a recipe for Gipsy cake in the Creams chapter of her Modern Domestic Cookery (1871).
I am willing to work.I have a bachelor degree in education. years. I taught school for 35 I love working with people
I am willing to work.I have a bachelor degree in education. years. I taught school for 35 I love working with people
Senior Living Communities
Explore Home Care Options Near You
Find a Financial Professional Near You
Taxes