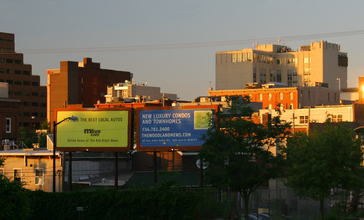 Ann Arbor is a city in the U.S. state of Michigan and the county seat of Washtenaw County. The 2010 census recorded its population to be 113,934, making it the sixth largest city in Michigan.
Ann Arbor is home to the University of Michigan. The university shapes Ann Arbor's economy significantly as it employs about 30,000 workers, including about 12,000 in the medical center. The city's economy is also centered on high technology, with several companies drawn to the area by the university's research and development infrastructure, and by its graduates.
Ann Arbor was founded in 1824, named for wives of the village's founders, both named Ann, and the stands of bur oak trees. The University of Michigan moved from Detroit to Ann Arbor in 1837, and the city grew at a rapid rate in the early to mid-20th century. During the 1960s and 70s, the city gained a reputation as a center for left-wing politics. Ann Arbor became a focal point for political activism, such as opposition to the Vietnam War and support for the legalization of cannabis.
Hi I am a professional experienced caregiver I am a cook, psychologist, musician and pianist, speak five languages, have University degree and I know how to take care of your customer, all recommendations and preferences available, ready to be a live-in caregiver, give me a call and we will talk in detail anytime my phone number is 586-718-8484
Sincerely yours Talib
Community engagement, education-University of Michigan/college town. Many supports for the elderly.
Very high rents. Most apartments are student oriented. Most senior living is in neighboring towns. Medical care is excellent for those with health insurance. There are three universities in the area. They do not hire seniors on a regular basis. The only transportation beside taxis, Uber, and medical transport (charge) is the bus. Over 65 ride the bus for free unless it is a night bus, then there is a charge. Students make up a good deal of the work force and seniors, generally, are hired part-time and, often, for minimum wage even with a college degree. The library likes senior volunteers, especially those with advanced math and science skills, for the free tutoring program.
Senior Living Communities
Explore Home Care Options Near You
Find a Financial Professional Near You
Taxes