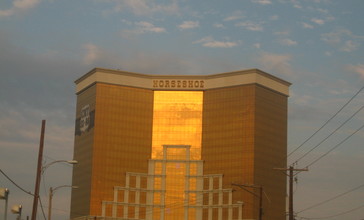 Bossier City ( BOH-zher) is a city in Bossier Parish, which is located on the northwestern border of Louisiana in the United States. As of the 2010 census, Bossier City had a population of 61,315. The 2013 estimate was 66,333. Bossier City is located on the eastern bank of the Red River and is closely tied economically and socially to its larger sister city Shreveport on the opposite bank. The Shreveport – Bossier City metropolitan area is the center of the region known as the Ark-La-Tex. On April 20, 2017, in their joint "State of Bossier" address, hosted by the Bossier Chamber of Commerce, Mayor Lo Walker and Bossier Parish Police Jury President Bob Brotherton described the growth of the city and parish as "outstanding". With 69,000 in a 2015 study by Louisiana State University, Bossier City has become the sixth-largest in the state and the fastest-growing one. Walker said that the city and the parish "work extremely close together, and our business and civic leaders and military make us an outstanding parish." The parish grew at 19 percent; the city at 10 percent. According to the Bossier Economic Development Foundation, the city could potentially reach 80,000 by 2019. Ongoing projects contributing to growth include the Walter O. Bigby Carriageway (the north parkway extension named for former state representative and judge Walter O. Bigby), Shed Road construction, and the South Bossier redevelopment districts. Bossier City is not the parish seat. The parish courthouse is located instead in Benton, about 12 miles (19 km) to the north of Bossier City.
I love working with and helping people. I have a genuine heart and I will go above and beyond to help anyone.
Everyone Loves and get along very well over here.
Everyone is so helpful and very out going
There are retired people in the community.
Everyone looks out for each other and also very helpful I just love the community
Senior Living Communities
Explore Home Care Options Near You
Find a Financial Professional Near You
Taxes