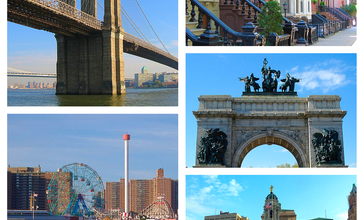 Brooklyn is the most populous borough of New York City. The borough continues, however, to maintain a distinct culture. Many Brooklyn neighborhoods are ethnic enclaves. Brooklyn's official motto, displayed on the Borough seal and flag, is Eendraght Maeckt Maght which translates from early modern Dutch as "Unity makes strength". Since 2010, Brooklyn has evolved into a thriving hub of entrepreneurship and high technology startup firms, and of postmodern art and design. Brooklyn can be a desirable place for older adults to live for many reasons:


Healthcare facilities: Brooklyn is home to numerous world-class hospitals and medical centers, including Maimonides Medical Center and NYU Langone Health. These facilities provide access to a wide range of healthcare services and specialized treatments.


Accessibility and transportation: Brooklyn benefits from a comprehensive transportation network, including subway lines, buses, and accessible options. This can make it easier for older adults to navigate the city and access various neighborhoods, healthcare facilities, and cultural attractions.


Cultural and recreational opportunities: Brooklyn is renowned for its vibrant arts, music, and cultural scene. The borough offers numerous museums, galleries, theaters, and performance venues, providing ample opportunities for entertainment, enrichment, and engagement in cultural activities.


Neighborhood diversity: Brooklyn is known for its diverse neighborhoods, each with its own unique character and charm. Older adults can find neighborhoods that suit their preferences, whether it's a bustling urban environment or a quieter residential area.


Walkability and amenities: Many neighborhoods in Brooklyn are highly walkable, with access to parks, shops, restaurants, and community services. There are other amenities, such as age-friendly parks and centers with programs and activities.


Cost of living: It's important to note that the cost of living in Brooklyn can be relatively high compared to many other parts of the country. Housing costs, taxes, and daily expenses may be higher, and it's essential to consider personal financial circumstances.
Easy access to mass transit. Many parks for recreational activities. Virtually safe.
Brooklyn has all a person can enjoy, restaurants, museums, concerts etc.
The reason I wouldn't recommend this community due to me just having a private life.
Crown heights is a great place to live
Crown Heights has a serious blemish to its Age-Friendliness: the in-accessibility of the Franklin Ave-Medgar Evers College subway station. Despite the fact that this is one of the busiest stations in the system, with both the 2 and 3 and the 4 and 5 trains, plus the S shuttle to the C train, the subway stop has 3 levels of stairs, and no escalators nor elevators. Talking about anything else in Crown Heights in terms of age-friendliness is like asking Mrs. Lincoln, "Yes, but what about the play?"
Senior Living Communities
Explore Home Care Options Near You
Find a Financial Professional Near You
Taxes