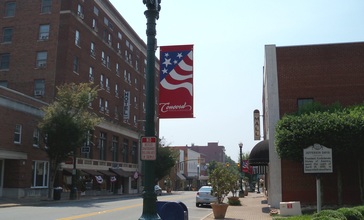 Concord (/ˈkɒn.kɔɹd/ or /ˈkaŋ.kəɹd/) is a city in Cabarrus County, in the U.S. state of North Carolina. As of the 2010 census, the city had a population of 79,066, with an estimated population in 2016 of over 89,891. It is the county seat and the largest city in Cabarrus County. In terms of population, the city of Concord is the second-largest city in the Charlotte Metropolitan Area and is the eleventh largest city in North Carolina. In 2015, Concord was ranked as the city with the 16th fastest growing economy in the United States. The city was a winner of the All-America City Award in 2004. Located near the center of Cabarrus County in the Piedmont region, it is 20 miles (32 km) northeast of Charlotte center city. Concord is the home to some of North Carolina's top tourist destinations, including NASCAR's Charlotte Motor Speedway and Concord Mills.
in society, social people and with respect for the community, a united society of values ​​and the principle of love for other people of different age, race or color, then there is the order of organizing a community with discipline, making sure the rules that apply community.
Concord is very age friendly with numerous ways to get around. Stores very close by so it doesn't require long rides to stores.
I wasn't able to click but it is age friendly
Its quiet, no one bothers anyone, everyone's friendly
Senior Living Communities
Explore Home Care Options Near You
Find a Financial Professional Near You
Taxes