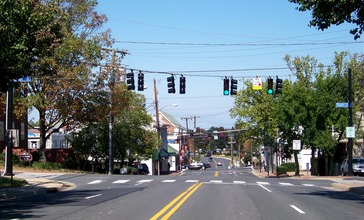 Fairfax, colloquially Central Fairfax, Downtown Fairfax, Fairfax City, or the City of Fairfax, is an independent city in the Commonwealth of Virginia in the United States.
As of the 2010 census the population was 22,565, which had risen to an estimated 24,013 as of 2015. The city of Fairfax is an enclave within the separate political entity Fairfax County. The city of Fairfax and the area immediately surrounding the historical border of the city of Fairfax, collectively designated by Fairfax County as "Fairfax", comprise the county seat of Fairfax County.
The city is part of the Washington-Arlington-Alexandria, DC-VA-MD-WV Metropolitan Statistical Area as well as a part of Northern Virginia. The city is 17 miles (27 km) west of Washington, D.C. The Washington Metro's Orange Line serves Fairfax through its Vienna station, which is a mile northeast of the city limits. CUE Bus and Metrobus operate in Fairfax. Virginia Railway Express's Burke Centre station is situated three miles southeast of the city's boundaries. Virginia's largest public educational institution with 33,917 students in 2013 is George Mason University, which is located in unincorporated Fairfax County, along the city's southern border.
Too many people, too much traffic, prices for everything is higher than the national average, healthcare is good though
Transportation
Work
General livability
It is surprising how engaged neighbors are with the community. They always do events to raise money for people in need in our community.
Everyone that I have worked with around the area has been friendly to me.
My community is age-friendly because there are a lot of opportunities to help elderly people and activities to keep them happy
Senior Living Communities
Explore Home Care Options Near You
Consider the benefits of an in-home caregiver. Care can range from 1 hour a day, to a few hours a week, to full time. Connect to a trusted provider today.
Find a Financial Professional Near You
Taxes
B
How did Virginia earn the grade of B? We examined the state taxes based on how age friendly they are. Virginia has a state sales tax of 5.30%. Of particular interest is that Virginia does not have taxes on social security. There are no estate taxes. There are no taxes imposed on inheritance. Virginia has an effective property tax rate of 0.79%. Weighing these taxes and other taxes most likely to impact the aging population is how Virginia earned its state tax grade of B.
Learn more about taxes in Virginia