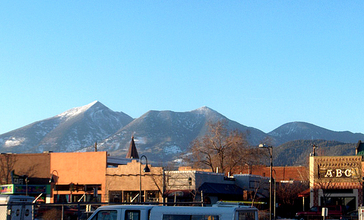 Flagstaff is a city in and the county seat of Coconino County in northern Arizona, in the southwestern United States. In 2015, the city's estimated population was 70,320. Flagstaff's combined metropolitan area has an estimated population of 139,097. The city is named after a ponderosa pine flagpole made by a scouting party from Boston (known as the "Second Boston Party") to celebrate the United States Centennial on July 4, 1876. Flagstaff lies near the southwestern edge of the Colorado Plateau, along the western side of the largest contiguous ponderosa pine forest in the continental United States. Flagstaff is located adjacent to Mount Elden, just south of the San Francisco Peaks, the highest mountain range in the state of Arizona. Humphreys Peak, the highest point in Arizona at 12,633 feet (3,851 m), is located about 10 miles (16 km) north of Flagstaff in Kachina Peaks Wilderness. Flagstaff's early economy was based on the lumber, railroad, and ranching industries. Today, the city remains an important distribution hub for companies such as Nestlé Purina PetCare, and is home to Lowell Observatory, The U.S. Naval Observatory, the United States Geological Survey Flagstaff Station, and Northern Arizona University. Flagstaff has a strong tourism sector, due to its proximity to Grand Canyon National Park, Oak Creek Canyon, the Arizona Snowbowl, Meteor Crater, and historic Route 66. The city is also a center for medical device manufacturing, since Flagstaff is home to W. L. Gore and Associates.
I believe that Flagstaff is age friendly because it is such a good place to live and raise family members in. There are tons of activities and schools to choose from for the family. I chose to come and live in Flagstaff because I felt like the town cared about its people, and not to mention very diverse.
I'm very friendly person to all ages. I'm people person always laughing and smiling with others and having good attitude with other people I come into contact with.
The typical age range in my community currently has families and college students that reside me and my sons.
It's a university town so the age is pretty focused.
It's a town full of retirees and college kids. For the time I've been to flag the people are nice and friendly.
Senior Living Communities
Explore Home Care Options Near You
Find a Financial Professional Near You
Taxes