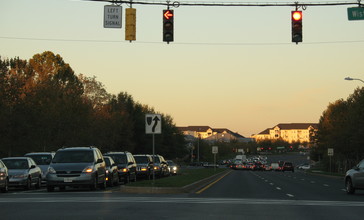 Germantown is an urbanized census-designated place in Montgomery County, Maryland. With a population of 90,676 as of 2013 U.S. Census Bureau estimates, Germantown is the third most populous place in Maryland, after the city of Baltimore, and the census-designated place of Columbia. If Germantown were to incorporate as a city, it would become the second largest incorporated city in Maryland, after Baltimore. Germantown is located approximately 25–30 miles (40–48 km) outside of the U.S. capital of Washington, D.C. and is an important part of the Washington metropolitan area. Germantown was founded in the early 19th century by European immigrants though much of the area's development did not occur until the mid-20th century. The original plan for Germantown divided the area into a downtown and six town villages: Gunners Lake Village, Kingsview Village, Churchill Village, Middlebrook Village, Clopper's Mill Village, and Neelsville Village. The Churchill Town Sector at the corner of Maryland Route 118 and Middlebrook Road most closely resembles the downtown or center of Germantown because of the location of the Upcounty Regional Services Center, the Germantown Public Library, the Black Rock Arts Center, the Regal Germantown Stadium 14, and pedestrian shopping that features an array of restaurants. Three exits to Interstate 270 are less than one mile away, the Maryland Area Regional Commuter train is within walking distance, and the Germantown Transit Center that provides Ride On shuttle service to the Shady Grove station of the Washington Metro's Red Line. Germantown has the assigned ZIP codes of 20874 and 20876 for delivery and 20875 for post office boxes. It is the most populous Germantown in Maryland and is the only "Germantown, Maryland" that is recognized by the United States Postal Service.
This place is age friendly because different type of people reside here. Including children elder people and young adults
Germantown does not appear particularly age friendly or age unfriendly to me.
I have been living in this town over 23 years, I loke the Germantown,MD
I DIDN'T NOTICE ANY PARTICULAR ACTIVITY FOR THIS TOPIC.
Senior Living Communities
Explore Home Care Options Near You
Find a Financial Professional Near You
Taxes