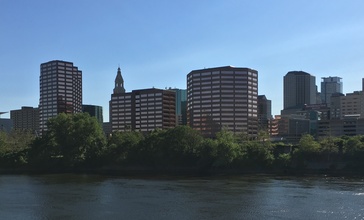 Hartford is the capital of the U.S. state of Connecticut. It was the seat of Hartford County until Connecticut disbanded county government in 1960. As of the 2010 Census, Hartford's population was 124,775, making it Connecticut's third-largest city after the coastal cities of Bridgeport and New Haven. Census Bureau estimates since then have indicated Hartford's fall to fourth place statewide, as a result of sustained population growth in the coastal city of Stamford. Hartford is nicknamed the "Insurance Capital of the World", as it hosts many insurance company headquarters and insurance is the region's major industry. The city was founded in 1635 and is among the oldest cities in the United States. It is home to the nation's oldest public art museum (Wadsworth Atheneum), the oldest publicly funded park (Bushnell Park), the oldest continuously published newspaper (The Hartford Courant), and the second-oldest secondary school (Hartford Public High School). It also is home to Trinity College, a private liberal arts college, and the Mark Twain House where the author wrote his most famous works and raised his family, among other historically significant attractions. Twain wrote in 1868, "Of all the beautiful towns it has been my fortune to see this is the chief." Following the American Civil War, Hartford was the richest city in the United States for several decades. Today, Hartford is one of the poorest cities in the nation, with 3 out of every 10 families living below the poverty line. In sharp contrast, the Hartford metropolitan area is ranked 32nd of 318 metropolitan areas in total economic production and 7th out of 280 metropolitan statistical areas in per capita income. Highlighting the socio-economic disparity between Hartford and its suburbs, 83% of Hartford's jobs are filled by commuters from neighboring towns who earn over $80,000, while 75% of Hartford residents who commute to work in other towns earn just $40,000.
It's a friendly because people will always looking out for you in every way they can if there is a fire you will know what's going on in the Community.
To almost all the places that I have left I feel good with the place and the people! I have never felt bad on site or with people!The jobs are close to my house! The people are friendly!Very polite people when they are exhibited! I see that if you need help with where you are somewhere they are willing to help! And they also care about the community! Wherever I go people make me feel good never make me feel bad!
Town is age frienfly as people of all ages live there. There is a strong sense of community and residents look out for each other. I am able to take advantage of available opportunities in adult education, senior activities, church activities and general community activities
The neighborhood is a multi culture, and seem to have a mix of young, middle aged and elderly, and from different countries.
Senior Living Communities
Explore Home Care Options Near You
Find a Financial Professional Near You
Taxes