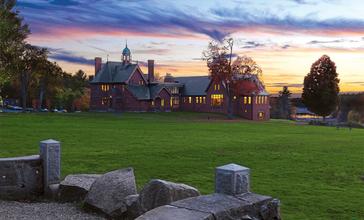 Harvard is a quiet affluent town in Worcester County, Massachusetts. The town is located 25 miles west-northwest of Boston, in eastern Massachusetts. A farming community settled in 1658 and incorporated in 1732, it has been home to several non-traditional communities, such as Harvard Shaker Village and the utopian Transcendentalist center Fruitlands. Today it is an affluent residential town noted for its excellent public schools, with its students consistently ranking in the state's top ten test results in English and math. The population was 6,520 at the 2010 census.
Harvard is an emerging age friendly community. This means it is pursuing an age friendly designation.

Harvard is not an age friendly community for seniors -- unless they are wealthy. Example: About 92% of the annual budget is spent on the school system & a new $58 million elementary school is being built to replace a 30 year old building. There are fewer than 575 children in the kindergarten/elementary school. In 2018, the highly organized & packed-with-parents town meeting voted to spend $38 million on a new school. In contrast, a request for a Council on Aging van was voted down, explanation was that the town can't afford one. In contrast to lavish school expenditures, the Senior Center (only resource in town) operates on less than 2% of Harvard's annual budget. Snob zoning prevents diversity - age, socioeconomic, etc. The town is and remains historically anti-business and lacks a business tax base. There are lots of pretty, leafy towns in Massachusetts that offer a nice quality of life for less. Harvard is not all that *special.* In a nutshell, the plan for Harvard's seniors as they age, get sick, or struggle with fixed incomes is for them to leave....even if their families have lived here for generations. Even if they've lived here for decades, raising children, volunteered, served the town, donated conservation land, etc. It's a school and real estate driven, transactional kind of place.
Senior Living Communities
Explore Home Care Options Near You
Find a Financial Professional Near You
Taxes