Member of the World Health Organization Global Network of
age-friendly
Cities and Communities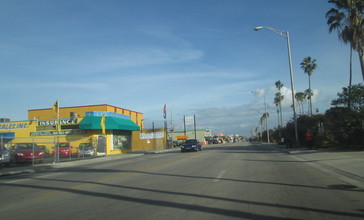 Hialeah ( ) is a city in Miami-Dade County, Florida, United States. With the population of 224,669 at the 2010 census, Hialeah is the sixth-largest city in Florida. It is a principal city of the Miami metropolitan area, which was home to an estimated 6,012,331 people at the 2015 census. It is located west-northwest of Miami, and is the only place in the county, other than Homestead, Florida, to have its own street grid numbered separately from the rest of the county (which is otherwise based on Miami Avenue at Flagler Street in downtown Miami, the county seat).
Hialeah has the highest percentage of Cuban and Cuban American residents of any city in the United States, at 75.3% of the population, making them a distinctive and prominent feature of the city's culture.
Hialeah also has one of the largest Spanish-speaking communities in the country. In 2016, 96.3% of residents reported speaking Spanish at home, and the language is an important part of daily life in the city. This has attracted many companies to Hialeah, such as Telemundo, the second largest Spanish-language television network in the United States, which is headquartered in the city.
Hialeah is served by the Miami Metrorail at Okeechobee, Hialeah, and Tri-Rail/Metrorail Transfer stations. The Okeechobee and Hialeah stations serve primarily as park-and-ride commuter stations to commuters and residents going into Downtown Miami, and Tri-Rail station to Miami International Airport and north to West Palm Beach.
Siento al adulto mayor como mi familia, los respeto y valoro.
because I like to help older people who need special help so that they feel well cared for, cared for and also emotionally encouraged by dedicating the attention they need
Es una comunidad sociable y amigable, además en casi todos los establecimientos se habla español q el idioma es importante para la comunicación
Very calm and quiet place to live.
I like working with people, helping them with everything they need, but above all making them feel independent and capable.
Senior Living Communities
Explore Home Care Options Near You
Find a Financial Professional Near You
Taxes