Member of the World Health Organization Global Network of
age-friendly
Cities and Communities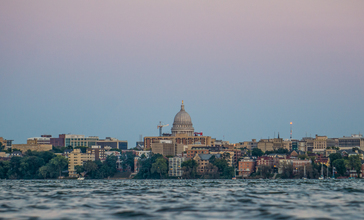 Madison is the capital of the U.S. state of Wisconsin and the seat of Dane County. As of July 1, 2016, Madison's estimated population of 252,551 made it the second-largest city in Wisconsin, after Milwaukee, and the 82nd-largest in the United States. The city forms the core of the United States Census Bureau's Madison Metropolitan Statistical Area, which includes Dane County and neighboring Iowa, Green, and Columbia counties. The Madison Metropolitan Statistical Area's 2010 population was 568,593. Founded in 1829 on an isthmus between Lake Monona and Lake Mendota, Madison was named the capital of the Wisconsin Territory in 1836 and became the capital of the state of Wisconsin when it was admitted to the Union in 1848. That same year, the University of Wisconsin was founded in Madison and the state government and university have become the city's two largest employers. The city is also known for its lakes, restaurants, and extensive network of parks and bike trails, with much of the park system designed by landscape architect John Nolen. Since the 1960s, Madison has been a center of political liberalism, influenced in part by the presence of the University of Wisconsin–Madison.
its very diverse and allows different people to learn and get to know eachother
Madison is the Land of Lakes. The lakes add beauty to our fine city and draw people from all over. Always a lot of boats out on the lakes and water skiers. In the winter there are many ice fishing shanties set up on the frozen water. We love the University of Wisconsin and all it has to offer for all age groups. We currently have a grandson who will be starting his 4th year here at the UW. Madison is the capital of Wisconsin and home to our world known Governor Scott Walker who has brought Madison and Wisconsin into the 21st Century. Madison has many avenues for good jobs. We have several hospitals and clinics, government jobs, many insurance companies, university employment, and research and technology, for which Madison has become the second Silicon Valley. Madison offers excellent police and fire protection. We have many Senior living communities that include independent living as well as memory care and nursing homes. We also have access to many services offered to senior citizens. Meals, transportation, and fun activities.
Senior Living Communities
Explore Home Care Options Near You
Find a Financial Professional Near You
Taxes