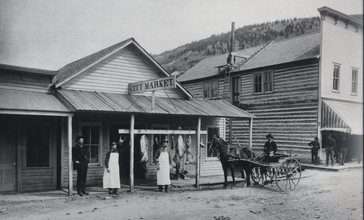 Marysville is a small unincorporated community in Lewis and Clark County, Montana, United States. In the 1880s and 1890s it was a bustling mining town of three thousand residents, and was the center of gold mining in Montana. The town was named by Thomas Cruse, mine owner, to honor Mary Ralston the wife of a miner. A few buildings remain, including a baseball field with bleachers. The population now consists of a few local residents, most of whom commute to and work in nearby Helena. Just up the dirt road is Great Divide Ski Area, while down the road is the Silver City Saloon on Highway 279.
Explore Home Care Options Near You
Consider the benefits of an in-home caregiver. Care can range from 1 hour a day, to a few hours a week, to full time. Connect to a trusted provider today.
Find a Financial Professional Near You
With 9,000 financial professionals available across the nation and 4,500 on MassMutual.com, MassMutual is committed to helping you secure your future.
Taxes
C
How did Montana earn the grade of C? We examined the state taxes based on how age friendly they are. Montana has a state sales tax of 0.00%. Of particular interest is that Montana does have taxes on social security. There are no estate taxes. There are no taxes imposed on inheritance. Montana has an effective property tax rate of 0.85%. Weighing these taxes and other taxes most likely to impact the aging population is how Montana earned its state tax grade of C.
Learn more about taxes in Montana