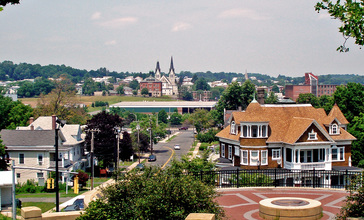 New Britain is a city in Hartford County, Connecticut, United States. It is located approximately 9 miles (14 km) southwest of Hartford. According to 2010 Census, the population of the city is 73,206.
Among the southernmost of the communities encompassed within the Hartford-Springfield Knowledge Corridor metropolitan region, New Britain is home to Central Connecticut State University and Charter Oak State College.
The city's official nickname is the "Hardware City" because of its history as a manufacturing center and as the headquarters of Stanley Black & Decker. Because of its large Polish population, the city is often playfully referred to as "New Britski."
Throughout the years that I've lived here, the community and the city has made amazing changes. There are friendly activities throughout the year for families and children as well.
Certain areas are very quiet
working, education, transportation, and community all work together.
I enjoyed working with elderly and the people that aren't able to do things on their own…. Love helping others …let them know that there is still life and love to live….taking care of my love ones help me with this passion to understand I'm needed in the field…
Senior Living Communities
Explore Home Care Options Near You
Find a Financial Professional Near You
Taxes