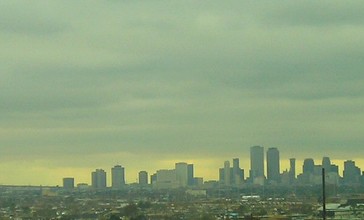 New Orleans is a major United States port and the largest city and metropolitan area in the state of Louisiana.
The population of the city was 343,829 as of the 2010 U.S. Census. The New Orleans metropolitan area (New Orleans–Metairie–Kenner Metropolitan Statistical Area) had a population of 1,167,764 in 2010 and was the 46th largest in the United States.
The New Orleans–Metairie–Bogalusa Combined Statistical Area, a larger trading area, had a 2010 population of 1,452,502. Before Hurricane Katrina, Orleans Parish was the most populous parish in Louisiana. As of 2015, it ranked third, trailing neighboring Jefferson Parish and East Baton Rouge Parish.
The city of New Orleans is geographically coextensive with Orleans Parish. The city is known for its distinct French and Spanish Creole architecture, as well as its cross-cultural and multilingual heritage. New Orleans is famous for its cuisine, music (particularly as the birthplace of jazz) and its annual celebrations and festivals, most notably Mardi Gras.
The city is often referred to as the "most unique" in the United States. New Orleans is located in southeastern Louisiana, and occupies both sides of the Mississippi River. The heart of the city and its French Quarter is on the river's north side. The city and Orleans Parish (French: paroisse d'Orléans) are coterminous. The city and parish are bounded by the parishes of St. Tammany to the north, St. Bernard to the east, Plaquemines to the south, and Jefferson to the south and west. Lake Pontchartrain, part of which lies within the city limits, lies to the north and Lake Borgne lies to the east.
I have a brother who is epilepsy and deaf when my mom is working I take care of hon
Because I have multiple friends and family that are sick and have long term health
Its a community of elderly home owners.
I have a passion in health care and i am studying to become a rn and want experiences.
Senior Living Communities
Explore Home Care Options Near You
Find a Financial Professional Near You
Taxes