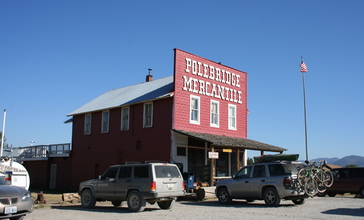 Polebridge is an unincorporated community in Flathead County, Montana, United States, 35 miles (56 km) northwest of Columbia Falls in the northwestern part of the state. This community is named for the log bridge that formerly connected the "inner" North Fork Road in Glacier National Park to the "outer" North Fork Road which leads to Montana Secondary Highway 486, over the North Fork Flathead River. Polebridge lies near the Canada–United States border. The W.L. Adair General Mercantile Historic District is a National Register of Historic Places-listed historic district in Polebridge.
Explore Home Care Options Near You
Consider the benefits of an in-home caregiver. Care can range from 1 hour a day, to a few hours a week, to full time. Connect to a trusted provider today.
Find a Financial Professional Near You
With 9,000 financial professionals available across the nation and 4,500 on MassMutual.com, MassMutual is committed to helping you secure your future.
Taxes
C
How did Montana earn the grade of C? We examined the state taxes based on how age friendly they are. Montana has a state sales tax of 0.00%. Of particular interest is that Montana does have taxes on social security. There are no estate taxes. There are no taxes imposed on inheritance. Montana has an effective property tax rate of 0.85%. Weighing these taxes and other taxes most likely to impact the aging population is how Montana earned its state tax grade of C.
Learn more about taxes in Montana