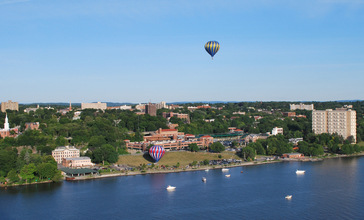 Poughkeepsie (pə-KIP-see), officially the City of Poughkeepsie, is a city in the state of New York, United States, which is the county seat of Dutchess County. As of the 2010 census it had a population of 32,736. Poughkeepsie is in the Hudson Valley midway between New York City and Albany, and is part of the New York metropolitan area. The name derives from a word in the Wappinger language, roughly U-puku-ipi-sing, meaning "the reed-covered lodge by the little-water place," referring to a spring or stream feeding into the Hudson River south of the present downtown area. Poughkeepsie is known as "The Queen City of the Hudson". It was settled in the 17th century by the Dutch and became New York's second capital shortly after the American Revolution. It was chartered as a city in 1854. Major bridges in the city include the Walkway over the Hudson, a former railroad bridge (originally called the Poughkeepsie Bridge), which re-opened as a public walkway on October 3, 2009; and the Mid-Hudson Bridge, a major thoroughfare built in 1930 that carries U.S. Route 44 (concurrent with State Route 55) over the Hudson. The city of Poughkeepsie lies in New York's 18th congressional district.
Well it's a quit neighborhood and has all ages , races it doesn't matter we all get along .
Notice many seniors and my experience has been positive.
I would say very friendly because our community engagement in political matters is breath taking. When my city comes together to participate in the demand of needing change in the society its heart warming. Overall I enjoy working in Poughkeepsie, everywhere you go there's going to be rude people, but for the most part everyone is respectful.
everything is walking distance and if walking is a issue busses run every hour.
Senior Living Communities
Explore Home Care Options Near You
Find a Financial Professional Near You
Taxes