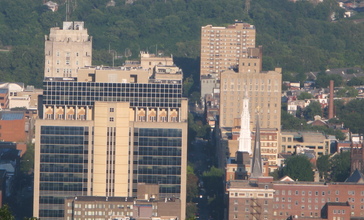 Reading ( RED-ing) (Pennsylvania German: Reddin) is a city in and the county seat of Berks County, Pennsylvania, United States. With a population of 87,575, it is the fifth-largest city in Pennsylvania. Located in the southeastern part of the state, it is the principal city of the Greater Reading Area. The city, which is approximately halfway between the state's most populous city, Philadelphia, and the state capital, Harrisburg (as well as about halfway between Allentown and Lancaster) is strategically situated along a major transportation route from Central to Eastern Pennsylvania, and lent its name to the now-defunct Reading Railroad, which transported anthracite coal from the Pennsylvania Coal Region to the eastern United States via the Port of Philadelphia. Reading Railroad is one of the four railroad properties in the classic United States version of the Monopoly board game. Reading was one of the first localities where outlet shopping became a tourist industry. It has been known as "The Pretzel City", because of numerous local pretzel bakeries. Currently, Bachman, Dieffenbach, Tom Sturgis, and Unique Pretzel bakeries call the Reading area home. According to the 2010 census, Reading has the highest share of citizens living in poverty in the nation. In recent years, the Reading area has become a destination for cyclists. With more than 125 miles of trails in five major preserves, it is an International Mountain Bicycling Association Ride Center and held the Reading Radsport Festival on September 8–9, 2017. In April 2017, it was announced that an indoor velodrome, or cycling track, will be built in Reading as the first of its kind on the East Coast and only the second in the entire country. Albright College and the World Cycling League formally announced plans April 6, 2017, to build the $20 million, 2,500-seat facility, which will be called the National Velodrome and Events Center at Albright College. It will also serve as the Cycling League's world headquarters.
Gives back to there community
Where ever you may go or reside theres always ups and down on people there are good ones and there where you cannot trust
discrimination of older people in employment
Some people are not friendly, it livability., the transportation system not good like New York. Good education system but drugs and gangs are here the city was very nice once but not again things change.
Senior Living Communities
Explore Home Care Options Near You
Find a Financial Professional Near You
Taxes