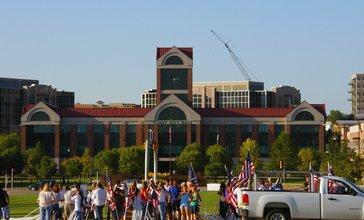 Sandy (officially known as Sandy City) is a city in Salt Lake County, Utah, United States. The population was 87,461 at the 2010 census, making it the sixth-largest city in Utah.
Sandy is home to the Shops at South Town shopping mall; the Jordan Commons entertainment, office and dining complex; and the South Towne Exposition Center. It is also the location of the soccer-specific Rio Tinto Stadium, which hosts Real Salt Lake and Utah Royals FC home games, and opened on October 8, 2008.
The city is currently developing an urban, walkable and transit-oriented city center called The Cairns. A formal master plan was adopted in January 2017 to accommodate regional growth and outlines developments and related guidelines through the next 25 years, while dividing the city center into distinct villages. The plan emphasizes sustainable living, walkability, human-scaled architecture, environmentally-friendly design, and nature-inspired design while managing population growth and its related challenges.
Nice quiet neighborhood. Hardly any crime.
Community is full of kids, is very safe, has a police officer living in the area, and is very kind and welcoming to all ages, races, ethnicities, and sexual orientations.
(CNN) — Kathy Felt can't get out of her wheelchair under her own power to get into bed at night.
But the 66-year-old is a beloved figure in the neighborhood she's called home for almost four decades. So for the past 10 years, a rotating cast of volunteers have showed up nightly like clockwork, lifting her into bed and tucking her in.
https://bit.ly/2J2KRdm
Senior Living Communities
Explore Home Care Options Near You
Consider the benefits of an in-home caregiver. Care can range from 1 hour a day, to a few hours a week, to full time. Connect to a trusted provider today.
Find a Financial Professional Near You
Taxes
C
How did Utah earn the grade of C? We examined the state taxes based on how age friendly they are. Utah has a state sales tax of 5.95%. Of particular interest is that Utah does have taxes on social security. There are no estate taxes. There are no taxes imposed on inheritance. Utah has an effective property tax rate of 0.67%. Weighing these taxes and other taxes most likely to impact the aging population is how Utah earned its state tax grade of C.
Learn more about taxes in Utah