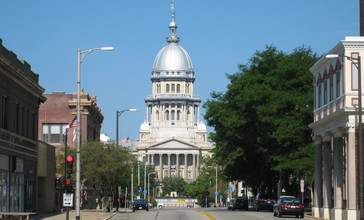 Springfield is the capital of the U.S. state of Illinois and the county seat of Sangamon County. The city's population of 116,250 as of the 2010 U.S. Census makes it the state's sixth most populous city. It is the largest city in central Illinois. As of 2013, the city's population was estimated to have increased to 117,006, with just over 211,700 residents living in the Springfield Metropolitan Statistical Area, which includes Sangamon County and the adjacent Menard County. Present-day Springfield was settled by European Americans in the late 1810s, around the time Illinois became a state. The most famous historic resident was Abraham Lincoln, who lived in Springfield from 1837 until 1861, when he went to the White House as President. Major tourist attractions include multiple sites connected with Lincoln including his presidential library and museum, his home, and his tomb at Oak Ridge Cemetery. The capital is centrally located within the state. The city lies in a valley and plain near the Sangamon River. Lake Springfield, a large artificial lake owned by the City Water, Light & Power company (CWLP), supplies the city with recreation and drinking water. Weather is fairly typical for middle latitude locations, with hot summers and cold winters. Spring and summer weather is like that of most midwestern cities; severe thunderstorms may occur. Tornadoes hit the Springfield area in 1957 and 2006. The city has a mayor–council form of government and governs the Capital Township. The government of the state of Illinois is based in Springfield. State government entities include the Illinois General Assembly, the Illinois Supreme Court and the Office of the Governor of Illinois. There are three public and three private high schools in Springfield. Public schools in Springfield are operated by District No. 186. Springfield's economy is marked by government jobs, and the medical field, which account for a large percentage of the city's workforce.
Depending on the type of work, Springfield can be very good for seniors looking for work in some areas, but not very good in other types of work. The pandemic has thrown a lot of older people who work out of work due to the risks of the virus being passed around. I am a victim of this, as schools changed to online schooling and substitute teachers were no longer needed.
A livable community is one that is safe and secure, has affordable and appropriate housing and transportation options, and offers supportive community features and services. Once in place, those resources: enhance personal independence; ... foster residents' engagement in the community's civic, economic, and social life.
Southern View has always been age friendly. Lots of neighborhood watch volunteers and police officers to look out for bad activity. Our elderly that still can walk outside are always friendly and act like they feels safe here.
Everyone around here cares about one another. They look out for kids playing
Senior Living Communities
Explore Home Care Options Near You
Find a Financial Professional Near You
Taxes