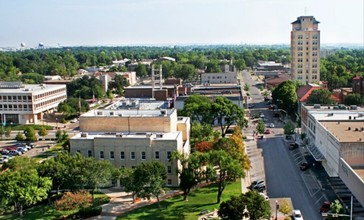 Temple is a city in Bell County, Texas, United States. As of 2016 the city has a population of 73,600 according to a US census estimate. Located near the county seat of Belton, Temple lies in the region referred to as Central Texas and is a principal city in the Killeen–Temple–Fort Hood Metropolitan Statistical Area. The metro region has a population of 450,051. Located off Interstate 35, Temple is 65 miles (105 km) north of Austin and 34 miles (55 km) south of Waco. Temple has developed as a small city with a number of arts and retail amenities not typically associated with a smaller community. The primary economic drivers are the extensive medical community (mostly due to Baylor Scott & White Medical Center) and goods distribution based on its central location between the Dallas-Fort Worth, San Antonio, and Houston metro areas, and proximity to larger neighbors Austin and Waco.
My neighborhood is somewhat friendly because sometimes the people in the area will wave and speak and sometimes they won't
It would be nice if people would smile and assist the elderly with picking-up things and groceries and smiling at them and being nice, I used to live in Austin and they were doing that, and I thought that since I moved here, they would do that, being the city is mostly retired people, but the stores and people do not do that.
Shopping centers and good restaurants
I don't know for some people just have a bad day and good day. And I wish I can share and hope I can teach people how to deal with un-friendly people turn them be happy and friendly and kind liked me.".
there are alot of shopping hospital and parks
Senior Living Communities
Explore Home Care Options Near You
Find a Financial Professional Near You
Taxes