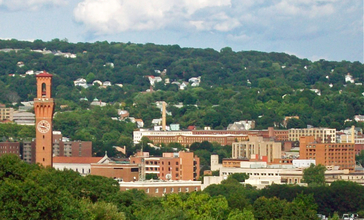 Waterbury is a city in the U.S. state of Connecticut on the Naugatuck River, 33 miles southwest of Hartford and 77 miles northeast of New York City.
Waterbury is the second-largest city in New Haven County, Connecticut. As of the 2010 census, Waterbury had a population of 110,366, making it the 10th largest city in the New York Metropolitan Area, 9th largest city in New England and the 5th largest city in Connecticut.Throughout the first half of the 20th century, Waterbury had large industrial interests and was the leading center in the United States for the manufacture of brassware (including castings and finishings), as reflected in the nickname the "Brass City" and the city's motto Quid Aere Perennius? ("What Is More Lasting Than Brass?"). It was also noted for the manufacture of watches and clocks. The city is along Interstate 84 (Yankee Expressway) and Route 8 and has a Metro-North railroad station with connections to Grand Central Terminal. Waterbury is also home to Post University and the regional campuses of the University of Connecticut, University of Bridgeport, Western Connecticut State University as well as Naugatuck Valley Community College.
Geography
According to the United States Census Bureau, the city has a total area of 29.0 square miles (75.0 km2), of which 28.5 square miles (73.9 km2) is land and 0.42 square miles (1.1 km2), or 1.46%, is water. Waterbury lies in the humid continental climate zone, and normally sees cold, snowy winters and warm, humid summers.
Emergency services
Fire department
The city of Waterbury is protected by the paid, full-time firefighters of the Waterbury Fire Department (WFD). The department currently operates out of nine fire stations located throughout the city.
Police department
The Waterbury Police Department (WPD) was founded in 1853. Headquarters is at 255 East Main Street, while the Waterbury police academy is located at the Waterbury Police Department Annex at 240 Bank Street. Former Chief of Police Vernon Riddick, who held the distinction of being the first African-American to hold the position in the department's history, recently retired to serve as Chief of the West Hartford Police Department[57]. Former Deputy Chief Fernando "Fred" Spagnolo was appointed the department's 22nd Chief of Police on December 13, 2018.
The colleges and community events that are held especially for the kids.
Waterbury has everything to offer that a City should Waterbury offers easy driving, convenient stores and shops, and friendly neighborhood people who are willing to help one another
Waterbury is somewhat age friendly because while most people care for the elderly, some are rude in ways at the grocery stores for example.
Wolcott is very peaceful and quiet. Lots of seniors find it pleasant.
Jobs, volunteer sites, community services.
Senior Living Communities
Explore Home Care Options Near You
Find a Financial Professional Near You
Taxes