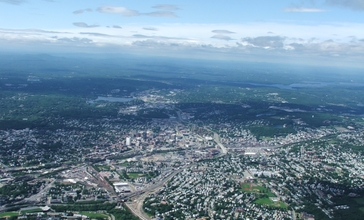 Worcester pronunciation is a city and the county seat of Worcester County, Massachusetts, United States.
Named after Worcester, England, as of the 2010 Census the city's population was 181,045, making it the second most populous city in New England after Boston. Worcester is located approximately 40 miles (64 km) west of Boston, 50 miles (80 km) east of Springfield and 40 miles (64 km) north of Providence. Due to its location in Central Massachusetts, Worcester is known as the "Heart of the Commonwealth", thus, a heart is the official symbol of the city. However, the heart symbol may also have its provenance in lore that the mass-produced Valentine's Day card was invented in the city.
Worcester was considered its own distinct region apart from Boston until the 1970s. Since then, Boston's suburbs have been moving out further westward, especially after the construction of Interstate 495 and Interstate 290. The Worcester region now marks the western periphery of the Boston-Worcester-Providence (MA-RI-NH) U.S. Census Combined Statistical Area (CSA), or Greater Boston. The city features many examples of Victorian-era mill architecture.
Worcester is an emerging age friendly community. This means it is pursuing an age friendly designation.
Transportation
Worcester is served by several interstate highways. Interstate 290 connects central Worcester to Interstate 495, I-90 in nearby Auburn, and I-395. I-190 links Worcester to MA 2 and the cities of Fitchburg and Leominster in northern Worcester County. I-90 can also be reached from a new Massachusetts Route 146 connector.
Worcester Regional Airport
Worcester is also served by several smaller Massachusetts state highways. Route 9 links the city to its eastern and western suburbs, Shrewsbury and Leicester. Route 9 runs almost the entire length of the state, connecting Boston and Worcester with Pittsfield, near the New York state border. Route 12 was the primary route north to Leominster and Fitchburg until the completion of I-190.
Healthcare
UMass-Worcester Medical School Hospital
In 1830, state legislation funded the creation of the Worcester State Insane Asylum Hospital (1833) and became one of the first new public asylums in the United States. Prior the Worcester State Insane Asylum hospital, all other treatment centers were funded by private philanthropists which neglected treatment for the poor.
Worcester is home to the University of Massachusetts Medical School, ranked fourth in primary care education among America's 125 medical schools in the 2006 U.S. News & World Report annual guide "America's Best Graduate Schools". The medical school is in the top quartile of medical schools nationally in research funding from the NIH and is home to highly respected scientists including a Nobel laureate, a Lasker Award recipient and multiple members of the National Academy of Sciences and the Howard Hughes Medical Institute.
care, community engagement ,education
There's lot of opportunities for work place. Lots of different transportation. Different nationalities is important so children grow up around others seeing them the same.
family oriented, good neighbors, education , food, community involvement
Worcester is age friendly because, it has many schools, jobs, recreational facilities for young people.
Easy access to city buses,restaurants, community park and so forth
Senior Living Communities
Explore Home Care Options Near You
Find a Financial Professional Near You
Taxes