About Us
AgeFriendly.org is an initiative of the Age-Friendly Institute.  We provide trusted content about the aging journey, help validate and elevate all things age friendly, and invite older adults and caregivers to share reviews and ratings about programs, businesses, health care providers and other services where they live, work and thrive. 
We Use Ratings and Reviews to Listen to Older Adults
User-generated rating and reviews sites exist in many categories to promote authenticity, create trust and drive purchasing decisions. To date, a comparable site that elevates and connects age-friendly providers with older adults has not existed.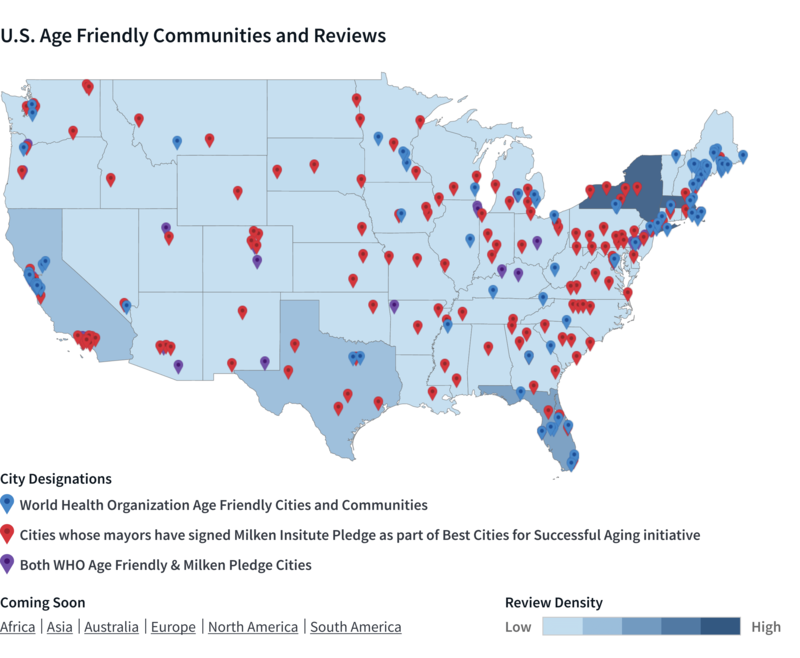 The underlying heat map shows states where AgeFriendly.org's 1,000's of individual ratings and reviews are concentrated. Reviews have been collected since 2018. Is your community age friendly? Add your review today!
Join the Crowd!
Your ideas matter. You have a role to play in making aging easier, along with people from government, the private sector, volunteer organizations, service providers, academic organizations and others in the general public. AgeFriendly.org offers you the chance to rate and review communities you know. This will let your peers learn if they are, in your opinion, age friendly. It simultaneously informs towns about what the age-friendly movement is all about.
What Does Age-Friendly Mean?
"Age-Friendly" describes environments that promote access to options, services and opportunities for people as they age, and that promote the inclusion and participation of older adults in all aspects of life. Experts have used the term "age-friendly" for the last 15 years to describe and assess successful approaches to improving quality outcomes for older adults in cities, workplaces, homes and healthcare settings. The term is now applied to towns and cities, using eight criteria originated by the United Nations' World Health Organization (WHO): Outdoor spaces and building, Transportation, Housing, Social participation, Civic participation and employment, Communication and information, Community and health services, and Respect and social inclusion. The WHO now has designated 700 cities worldwide as age friendly. The Milken Institute's Best Cities for Successful Aging index identifies age friendly metropolitan areas through measurable data and comparable criteria.
Free to Site Visitors
AgeFriendly.org is completely free for users. Advertisers pay AgeFriendly.org to deliver messages about topics such as financial services, living, health and work.
We Are Making a Difference - Join Us!
For every one person who has landed in an age-friendly community, found a fulfilling retirement job or discovered a successful way to age in place, there are several others who, despite their best efforts, have not found an easy way to connect. We aim to ease the way, providing opportunity, inspiration, community and counsel on these subjects to older adults and their families.