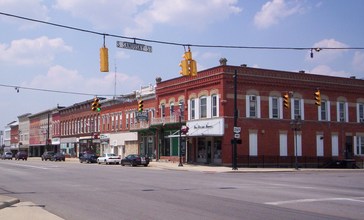 Bellevue is a city in Erie, Huron and Sandusky counties in the U.S. state of Ohio. The population was 8,202 at the 2010 census. The National Arbor Day Foundation has designated Bellevue as a Tree City USA.
The Sandusky County portion of Bellevue is part of the Fremont Micropolitan Statistical Area, while the Huron County portion is part of the Norwalk Micropolitan Statistical Area. The small portion of the city that extends into Erie county is part of the Sandusky Micropolitan Statistical Area.
Bellevue was the home of Henry Morrison Flagler when he partnered up with John D. Rockefeller to start Standard Oil. Flagler later went on to build the Florida Overseas Railroad, to Key West, Florida. The property of his former Bellevue residence on Southwest Street is the current location of the Mad River & NKP Railroad Museum.
The city derives its name from James H. Bell, a railroad official.
This is a retirement town with a large percentage of retirees.
Senior Living Communities
Explore Home Care Options Near You
Find a Financial Professional Near You
Taxes