Member of the World Health Organization Global Network of
age-friendly
Cities and Communities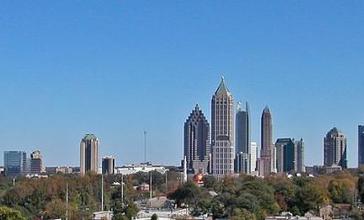 Atlanta is the capital and most populous city of the state of Georgia in the United States.
With an estimated 2016 population of 472,522, it is the cultural and economic center of the Atlanta metropolitan area, home to 5.8 million people and the ninth-largest metropolitan area in the United States. Atlanta is the seat of Fulton County and a small portion of the city extends eastward into DeKalb County.
Atlanta was founded as a transportation hub at the intersection of two railroad lines in 1837. After being mostly burned to the ground during the American Civil War, the city rose from its ashes to become a national center of commerce and the unofficial capital of the "New South". During the 1960s, Atlanta became a major organizing center of the civil rights movement, with Dr. Martin Luther King, Jr., Ralph David Abernathy, and many other locals playing major roles in the movement's leadership.
In the decades following, the city earned a reputation as "too busy to hate" for the relatively progressive views of its citizens and leaders compared to other cities in the "Deep South". During the modern era, Atlanta has attained international prominence as a major air transportation hub, with Hartsfield–Jackson Atlanta International Airport being by far the world's busiest airport since 1998. Atlanta is rated a "beta(+)" world city that exerts a moderate impact on global commerce, finance, research, technology, education, media, art, and entertainment. It ranks 18th among world cities and 7th in the nation with a gross domestic product of $320 billion.
Atlanta's economy is considered diverse, with dominant sectors that include logistics, professional and business services, media operations, and information technology. Atlanta has topographic features that include rolling hills and dense tree coverage, earning it the nickname of "the city in a forest." Revitalization of Atlanta's neighborhoods, initially spurred by the 1996 Olympics in Atlanta, has intensified in the 21st century, altering the city's demographics, politics, and culture.
Community is full of younger people with disrespecting behavior.
As a resident of Midtown, Atlanta -- I appreciate the convenience of transportation and community engagement. However, for mature members of society, it can be a tad fast pace and loud.
My late mother was a caregiver for years until her passing, I walk in my mothers steps and would love to keep the movement of caring for the disabled or elderly going!
I live in cobb county, it would be easy for transportation and community engagement
I'm here and like the environment. I no longer drive and public transportation is available right outside my door.
Senior Living Communities
Explore Home Care Options Near You
Find a Financial Professional Near You
Taxes