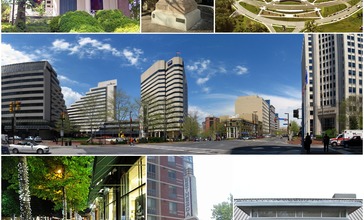 Bethesda is an unincorporated, census-designated place in southern Montgomery County, Maryland, United States, located just northwest of the U.S. capital of Washington, D.C.
It takes its name from a local church, the Bethesda Meeting House (1820, rebuilt 1849), which in turn took its name from Jerusalem's Pool of Bethesda. In Aramaic, ܒܝܬ ܚܣܕܐ beth ḥesda means "House of Mercy" and in Hebrew, בית חסד‬ "beit ḥesed" means "House of Kindness". The National Institutes of Health main campus and the Walter Reed National Military Medical Center are in Bethesda, as are a number of corporate and government headquarters. In 2014, it placed first on both Forbes' list of America's most educated small towns and Time's list of top earning towns. As an unincorporated community, Bethesda has no official boundaries. The United States Census Bureau defines a census-designated place named Bethesda whose center is located at 38°59′N 77°7′W.
The United States Geological Survey has defined Bethesda as an area whose center is at 38°58′50″N 77°6′2″W, slightly different from the Census Bureau's definition. Other definitions are used by the Bethesda Urban Planning District, the United States Postal Service (which defines Bethesda to comprise the zip codes 20810, 20811, 20813, 20814, 20815, 20816, and 20817), and other organizations. According to estimates released by the U.S. Census Bureau in 2013, the community had a total population of 63,374. Most of Bethesda's residents are in Maryland Legislative District 16.
Transportation
Washington Metro's Red Line services two primary locations in Bethesda: the downtown area at the Bethesda, and the area near the National Institutes of Health and the Walter Reed Medical Center at the Medical Center Washington Metro stations. The Maryland Transit Administration's Purple Line, a light-rail rail currently under construction, will provide a direct connection from Bethesda to Silver Spring, the University of Maryland, College Park, and New Carrollton. The Purple Line will allow riders from Bethesda to move between the Red, Green, and Orange lines of the Washington Metro transportation system, as well as to MARC and Amtrak trains, without needing to ride into central Washington, D.C.
Local buses include:
WMATA's Metrobus
The Montgomery County Ride On bus system also has several routes through Bethesda.
Bethesda Circulator, a free loop bus that operates Monday-Saturday and covers most of downtown Bethesda.
Long-distance buses include Vamoose Bus and Tripper Bus,[31] both of which provide service from downtown Bethesda to the proximity of Penn Station in Midtown Manhattan, New York City.
Tripper Bus, a privately owned company, provides service from Bethesda at the southwest corner of Elm Street and Wisconsin Ave to New York City between 8th and 9th Ave near Penn Station, in close to proximity to Port Authority Bus Terminal.
Contacts
Ilyse Veron, Envoy
Social
I have not previously lived in Bethesda, MD. I will start living in that town on my coming back to the USA. I know it as a visitor because I used to live and work in Washington DC metropolitan area before moving to Orlando (Florida) and then to Bogota (Colombia). I would like to think it is and age friendly town because it is going to be my hometown from November on.
Alot of Assisting Living senior homes are around this location.
Education, community engagement, care, livability
Most of people are nice and respectful.
Senior Living Communities
Explore Home Care Options Near You
Find a Financial Professional Near You
Taxes