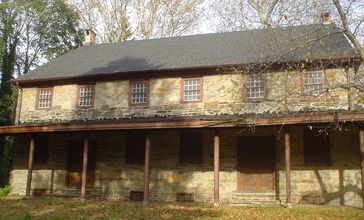 Darby is a borough in Delaware County, Pennsylvania, United States, along Darby Creek 5 miles (8.0 km) southwest of downtown Philadelphia. Darby was settled about 1654 and inhabited by Quakers early in the colonial era. Incorporated on May 3, 1853, it had 3,429 residents in 1900, 6,305 in 1910, 10,334 in 1940, and 10,687 at the 2010 census. The name Darby is derived from the English city of Derby (pronounced "Darby"), the county town of Derbyshire (pronounced "Darbyshire"), the origin of many early settlers. Comedian and actor W.C. Fields was born in 1880 at the Arlington Hotel, then located at 832 Main Street. Darby is home to the fifth-oldest all-volunteer Fire Department and the Darby Free Library, one of the oldest libraries in the United States, founded in 1743. One of its cemeteries is more than 300 years old. Darby Borough is distinct from the nearby municipality of Darby Township.
Well to be simple and frank, there are many residents over 60 years old that live here and the little flower manor care facility for the elderly is literally up the street.
Because the people are nice and it's easy to find transportation
In the area that I live many people are of age and many of the families stay to them selves
curb cuts for walkers and wheelchairs, seating at bus shelters, free or reduced priced admission to cultural activities, and "senior-only" hours at some public facilities.
Quiet neighborhood, good schools
Senior Living Communities
Explore Home Care Options Near You
Find a Financial Professional Near You
Taxes