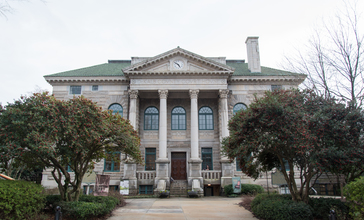 Decatur is a city in, and the county seat of, DeKalb County, Georgia, United States and is part of the Atlanta metropolitan area.
With a population of 20,148 in the 2013 census, the municipality is sometimes assumed to be larger since multiple zip codes in unincorporated DeKalb County bear the Decatur name. The city is served by three MARTA rail stations. The city is located approximately 5 miles northeast of downtown Atlanta and shares its western border with Atlanta.
Festivals, special events and arts
Decatur has a thriving art and festival scene. The Decatur Arts Alliance hosts the Decatur Arts Festival each May, in addition to installing public art around the city, providing gallery space for local artists, producing YEA!, which is an event for young emerging artists, and supporting arts and arts education throughout the City.
Decatur is home to Eddie's Attic, which is a live music venue hosting shows almost every night.
Decatur is known for its frequent festivals, which include the annual Decatur Arts Festival, Summer In The City, Decatur BBQ, Blues & Bluegrass Festival, the Decatur Book Festival, the Decatur Maker's Faire, The Decatur Craft Beer Festival and the Decatur Wine Festival. Other events throughout the year include parades, Concerts on the Square, wine crawls, art walks, runs, and races.
Public art in Decatur includes Celebration (artist Gary Price), Valentine (artist George Lundeen), Thomas Jefferson (George Lundeen), Commodore Stephen Decatur (artist unknown), Roy A. Blount Plaza, and Living Walls Murals (various artists).

Dining, breweries and distilleries
Decatur is known for its food scene and was named one of the South's "Tastiest Towns" in 2012. In 2016, the New York Times called it "Atlanta's gastronomic equivalent of Berkeley or Brooklyn".
Noteworthy restaurants and establishments include:
Brick Store Pub, which was named one of the best beer bars in the nation by Beer Advocate
Cakes & Ale Restaurant, twice recognized by Bon Appetit as one of the best new restaurants in the US
Revival, from 2016 James Beard finalist Kevin Gillespie
The Pinewood Tippling Room, recipient of OpenTable's Diners' Choice Award
 Kimball House, named 2014 Best New Restaurant by Southern Living
plus many more restaurants, coffee shops, pubs, ice cream and yogurt parlors and bakeries
Decatur has a growing beer scene with the award-winning Brick Store Pub, Wild Heaven Beer, Three Taverns Brewery, and Blue Tarp Brewing Co. The Decatur Craft Beer Festival was named one of the top ten beer festivals in the United States. Decatur is also home to Independent Distilling Co.
I see there are a lack of community sidewalks many walk in street here.
Decatur is next door to Atlanta. More senior have moved to the Decatur area because it close to Atlanta. They are building a lot of Senior living apartments because Its accessibility to the bus and transit in the area as well as close shopping locations.
There is al of of Elderly people living in my community.they always say hello.
everone says hello help you out when they see that you need some help and everyone always looking out for each other
Senior Living Communities
Explore Home Care Options Near You
Find a Financial Professional Near You
Taxes