Member of the World Health Organization Global Network of
age-friendly
Cities and Communities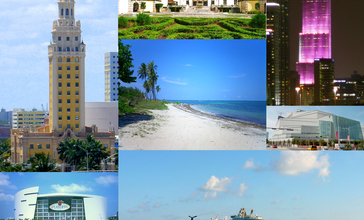 Miami is a major port city on the Atlantic coast of south Florida in the southeastern United States.
As the seat of Miami-Dade County, the municipality is the principal, central, and the most populous city of the Miami metropolitan area and part of the second-most populous metropolis in the southeastern United States.
According to the U.S. Census Bureau, Miami's metro area is the eighth-most populous and fourth-largest urban area in the U.S., with a population of around 5.5 million. Miami is a major center, and a leader in finance, commerce, culture, media, entertainment, the arts, and international trade.
In 2012, Miami was classified as an "Alpha−" level world city in the World Cities Study Group's inventory. In 2010, Miami ranked seventh in the United States and 33rd among global cities in terms of business activity, human capital, information exchange, cultural experience, and political engagement. In 2008, Forbes magazine ranked Miami "America's Cleanest City", for its year-round good air quality, vast green spaces, clean drinking water, clean streets, and citywide recycling programs.
According to a 2009 UBS study of 73 world cities, Miami was ranked as the richest city in the United States, and the world's seventh-richest city in terms of purchasing power. Miami is nicknamed the "Capital of Latin America" and is the largest city with a Cuban-American plurality. Miami has the third tallest skyline in the U.S. with over 300 high-rises.
Downtown Miami is home to the largest concentration of international banks in the United States, and many large national and international companies. The Civic Center is a major center for hospitals, research institutes, medical centers, and biotechnology industries. For more than two decades, the Port of Miami, known as the "Cruise Capital of the World", has been the number one cruise passenger port in the world. It accommodates some of the world's largest cruise ships and operations, and is the busiest port in both passenger traffic and cruise lines.
Metropolitan Miami is also a major tourism hub in the southeastern U.S. for international visitors, ranking number two in the country after New York City.
I will recommend certain areas in Miami. I will consider language/ languages spoken by client.
Buena educación, transporte y seguridad
Tengo todo lo que cualquier usuario (paciente ) necesita, soy compasiva , amable ,cariñosa , respetuosa, me encanta cuidar de los demás
efficiency, cost reduction, and leveraging large data to help guide better business decisions. Proven success in Non-Labor Cost Reduction, Healthcare Consulting, Payer and Provider Payment Configurations, Big Data Analysis, Financial Reporting, and Strategic Sourcing, with expertise in business writing to deliver quality, customized material spanning news, marketing, web content, curriculum, and career development.
Everyone Here Is Older And Friendly. So They Take Care Of Us Younger Kids While We Also Taking Care Of Them. It's A Family Community
It is very friendly, safe and happy place to live.
The block my parents stay on is filled with older people the same people that have lived there my whole life. Most areas in Miami are like small families in a way. Everyone looks out for one another.
Senior Living Communities
Explore Home Care Options Near You
Find a Financial Professional Near You
Taxes