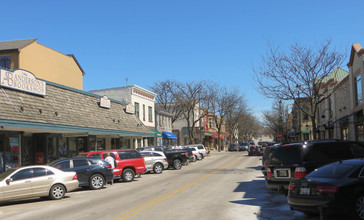 Naperville () is a city in DuPage and Will counties in the U.S. state of Illinois, and a suburb of Chicago. In a 2010 study assessing cities with populations exceeding 75,000, Naperville was ranked as the wealthiest city in the Midwest and the eleventh wealthiest in the nation. It was ranked among the nation's safest cities by USAToday and Business Insider. Naperville was voted the second-best place to live in the United States by Money magazine in 2006 and it was rated first on the list of best cities for early retirement in 2013 by Kiplinger. As of the 2010 census, the city had a population of 141,853, which was estimated to have increased to 147,112 by July 2015. It is the fifth-largest city in Illinois.
Really not experienced in this community on whether it is age friendly or unfriendly
Is noted as an excellent family town with many resources for learning and activities
There is a tremendous amount of traffic in the city with heavy congetstion during rush hours. The community is really set up for young families and overall the cost of living is very high. Housing is not affordable unless you are very affluent. Health care however is really top notch in Naperville, and there are a significant number of volunteer opportunites. There are a significant number of cultural events, including first rate theatre productions in nearby Aurora Illinois. Downtown Naperville is really quaint and charming, and the Riverwalk along the Dupage river is really exceptional. So all in all, the amenities are great, there is low crime, but the cost of living is high and the traffic is significant.
I just think it's a little of both. Friendly or somewhat friendly
Senior Living Communities
Explore Home Care Options Near You
Find a Financial Professional Near You
Taxes