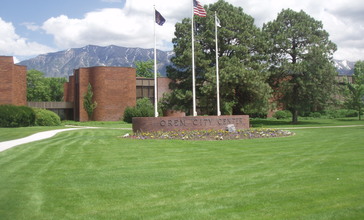 Orem is a city in Utah County, Utah, United States, in the north-central part of the state. It is adjacent to Provo, Lindon, and Vineyard and is about 45 miles (72 km) south of Salt Lake City. Orem is one of the principal cities of the Provo-Orem, Utah Metropolitan Statistical Area, which includes all of Utah and Juab counties. The population was 84,324 at the 2000 census, while the 2010 population was 88,328 making it the fifth-largest city in Utah. Utah Valley University is located in Orem. The Orem Owlz of the minor league baseball Pioneer League play their home games at the college.
Orem uses the slogan "Family City USA." In 2010 Forbes rated it the 5th best place to raise a family. Also, Time magazine rated the Provo-Orem area as the best place to live for spiritual well-being, due to a high population of members of The Church of Jesus Christ of Latter-day Saints. At one time the area was known as Sharon, a Biblical name for a mostly level strip of land running between mountains and the sea, and the name of the Vermont birth town of Joseph Smith, founder of the Latter Day Saint movement. Another former name was Provo Bench. In an apparent attempt to attract more investment to the town and provide an easy way for the large population of farmers with orchards to ship produce, in 1914 it was named after Walter C. Orem, President of the Salt Lake and Utah Railroad in the early 1900s. Orem was incorporated in 1919.
I been discriminated at work because my age!
Easy access to work and school. People are nice and sociable.
There is a bus system with para transit for a reasonable price. I do not, however, need paratransit. There is an active senior center with a variety of programs.
quiet town, everything closed on sunday.
Orem is pretty open-minded, and its schools are great.
Senior Living Communities
Explore Home Care Options Near You
Consider the benefits of an in-home caregiver. Care can range from 1 hour a day, to a few hours a week, to full time. Connect to a trusted provider today.
Find a Financial Professional Near You
Taxes
C
How did Utah earn the grade of C? We examined the state taxes based on how age friendly they are. Utah has a state sales tax of 5.95%. Of particular interest is that Utah does have taxes on social security. There are no estate taxes. There are no taxes imposed on inheritance. Utah has an effective property tax rate of 0.67%. Weighing these taxes and other taxes most likely to impact the aging population is how Utah earned its state tax grade of C.
Learn more about taxes in Utah