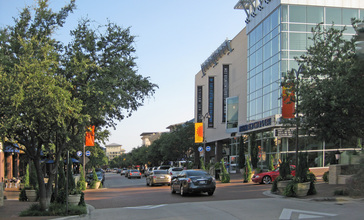 Plano ( PLAY-noh) is a city in the U.S. state of Texas, located twenty miles northeast of downtown Dallas. The city of Plano is a part of the Dallas-Fort Worth metropolitan area. Plano lies mostly within Collin County, but includes a small portion that extends into Denton County.
The city's population was 269,776 at the 2010 census, making it the ninth most populous city in the state of Texas and the 69th most populous in the United States. The city is a hub for many corporate headquarters.
I have been a caregiver sens 2001. I enjoy working with seniors. I did home care for 18 years and now I'm a resident assistant. I help seniors with their activities of daily living. I ride the bus to and from work.
BECAUSE EVERYONE IN THE NIEBORHOOD IS KIND AND FRIENDLY!
My neighbors great friendly we all know each other we got good homes cares great high end people that clean lives around us too I have a good education.new car every two years,I'm a manager at my store I haven't had too many jobs I care about older people I like work at as a caregiver I have experience over 2 years at nursing home..I watch learn older people can't walk good open can goods do anything as I see my family getting older need help I like care help others step in door I took child development in school I love animals
My name misty majid I have transportation,I graduated at grande prairie high school I took child care,I work few jobs I'm working now Murphy's Express I'm a manager of three years I wanted try new job I care about people I stay in Plano Texas have a good family..I wanted try something different at my job I keep up with everything.i do orders ,stocking , paper work not too much at store keep up..I like easy jobs ..I haven't had too many.not good have too many job I think ..
Because it's a safe and friendly city to live in.
Senior Living Communities
Explore Home Care Options Near You
Find a Financial Professional Near You
Taxes