Cincinnati

Cincinnati
Ohio
Member of the World Health Organization Global Network of
age friendly
Cities and Communities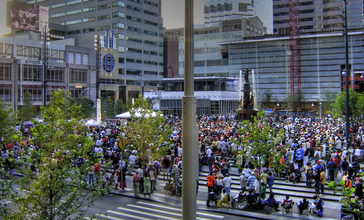 Cincinnati is a city in the U.S. state of Ohio and seat of Hamilton County. Settled in 1788, the city was located at the north side of the confluence of the Licking River to the Ohio.
This area is age freindly because there is a large senior community that resides in this area. There is great public transportation to the shopping centers, retirement and several geriatric nursing facilities. In this area there are also twelve svhools (public and private) which makes this area a good family friendly based community. Some of our schools are interactive with the four public housing for the disabled and elderly. This area is also enriched with several churches of different denominations. Our community is family and multi age oriented for everyone.
There are pretty many age friendly living facilities and apartments. Most places have ramps for handicapped. You can apply for Access (senior/disability) transportation. Medicaid transportation is available for those on Medicaid. There are senior groups at Cincinnati Recreation Centers.
I've lived here in Cincinnati all my life. This city is good for any age. I'm a senior citizen now and we agencies to help guide us into senior citizen living, retirement, part-time employment, health care facilities.
We live in a predominately Jewish neighborhood, which means that there ar a lot of walkers on the streets, especially on Saturdays. While there are numerous incidents of crime within the city, the people in my community don't get harassed. Personally, I just finished a temporary job that was finished around 12, when he buses stop running in my neighborhood. I have to walk a mile at midnight, and the scariest thing about the walk are the lizards and other small creatures. There aren't many tall buildings, and all of the modern stores have ramps. There is also a senior living community about a mile from where I live.
There are all types of activities and community engagement in the area. My small children are easily entertained, as am I and since one of my children is in a wheelchair, I always check out how accessible the neighborhoods we choose are and access to what we want and need.
Senior Living Communities
Explore Home Care Options Near You
Find a Financial Professional Near You
Taxes