Member of the World Health Organization Global Network of
age-friendly
Cities and Communities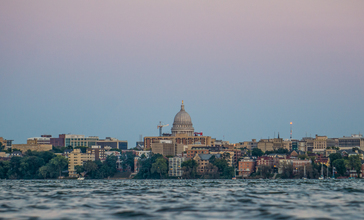 Madison is the capital of the U.S. state of Wisconsin and the seat of Dane County. As of July 1, 2016, Madison's estimated population of 252,551 made it the second-largest city in Wisconsin, after Milwaukee, and the 82nd-largest in the United States. The city forms the core of the United States Census Bureau's Madison Metropolitan Statistical Area, which includes Dane County and neighboring Iowa, Green, and Columbia counties. The Madison Metropolitan Statistical Area's 2010 population was 568,593. Founded in 1829 on an isthmus between Lake Monona and Lake Mendota, Madison was named the capital of the Wisconsin Territory in 1836 and became the capital of the state of Wisconsin when it was admitted to the Union in 1848. That same year, the University of Wisconsin was founded in Madison and the state government and university have become the city's two largest employers. The city is also known for its lakes, restaurants, and extensive network of parks and bike trails, with much of the park system designed by landscape architect John Nolen. Since the 1960s, Madison has been a center of political liberalism, influenced in part by the presence of the University of Wisconsin–Madison.
Nearly nightly live music and dancing available. Bike rental stations throughout the city and the downtown area is walkable.
All walks of life are welcomed.
You get to walk down the street with no problem
Take strolls with consumer
Friendly waves when you walk pass another person
Community recreations
well there's kids running around, also we have neighbors who take the garbage out for the elderly neighbors. we all get along great
Senior Living Communities
Explore Home Care Options Near You
Find a Financial Professional Near You
Taxes